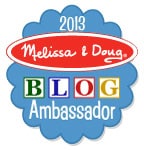 Do you garden with your kids? If not, which particular obstacle is in your way?
For me, getting started was a challenge because I didn't know what we would do with the things we grew! For years I enjoyed a little herb garden on my patio but they rarely made their way into the kitchen. Over time, I've found super easy ways for slipping them into my dishes which makes having an herb garden extremely gratifying.
Herbs are perfect for little green thumbs because there is immediate satisfaction once they are planted, you don't need the patience for a vegetable to ripen.
You can also explore herbs without necessarily eating them which is perfect for hesitant little eaters. Has your child ever smelled fresh mint? How about basil? Have they run their fingers over prickly rosemary or bushy thyme?
Herbs need to be clipped back to remain bushy and healthy. Fairly frequent harvesting only improves the plant. My daughters love being allowed to trim the branches or pull a few leaves for me.
We start most of our herbs with starter plants from the farmer's market. The only one I've struggled to find this year is cilantro so we're attempting to grow it from seed.
Once your little one has explored the smells and feel of the herbs, it's great to have a few simple recipes in your pocket for trying them. These are three of my very favorite kid-friendly ways to use them:
1. Restaurant style salsa: 
Herb featured: Cilantro
This recipe is perfect because the tomatoes come from a can! You don't need to wait to have fresh in season tomatoes. The fresh cilantro and a bit of fresh onion, lime juice, and a jalapeño gives the final salsa a just-picked flavor. You can find the recipe here.
2. Doctored up frozen pizza:
Herb featured: Basil
It doesn't get much easier than this. Take your family's favorite frozen pizza and simply sprinkle some fresh basil over the top. You will be amazed how much better the pizza tastes! If you really want to get fancy, you could experiment with making homemade pizzas with store-bought pizza dough. My kids love decorating with their own toppings. But, in a pinch, this is a fun way to play with the garden.
3. Mocktail lemonades:
Herb featured: Mojito mint
My local farmer's market carries several varieties of mint. Last year they showcased a chocolate mint they swore was perfect for desserts. This year the mojito mint caught my eye. It has a citrusy element to it that makes it perfect for cocktails for mom & dad but is just right for sprucing up your child's favorite lemonade. This is great because they don't have to actually drink the mint, it just leaves a bit of flavor to the lemonade and helps to introduce the difference an herb can make. Have a blind taste test contest and see if they can detect it!
Looking for more great ways to extend the gardening exploration? We love these adorable items:

So tell me, what's your child's favorite thing to tend in the garden?

_____________
Tiffany Dahle is the hostess behind Peanut Blossom where she shares her belief that strong families start with strong and happy mothers. She encourages you to develop everyday possibilities for stretching your creativity while doing what you do to keep that household running!
You can find Tiffany on Facebook, Twitter, Google+ and Pinterest.
_____________
Liked this post?