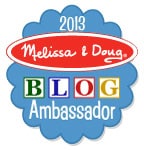 How many of you remember sitting at a wobbly card table in a squashed corner of a dining room longingly gazing at the big people's table with all it's fancy finery on Thanksgiving? I'm sure I'm not alone in this classic kid memory.
This year marks the very first year our family & guest size will warrant relegating the wee ones to their own table to make room for everyone joining us for turkey.
But just because I don't trust my three year old with the china and Waterford yet doesn't mean they can't feel their spot is still special. I've actually enjoyed planning their table top decorations more than I do the main table which will mostly be covered in food platters!
An inviting spot that will welcome your kids to sit down with the company is just a few easy ideas away:
1. Paper is your friend! Use it wisely.
I stocked up on adorable turkey & pumpkin plates and napkins when they were on sale at the local craft store. We actually use these as appetizer & dessert plates to save a little washing and leave the china for the main course. I just snagged a few for the kids' main dish plate.
Use a large roll of white easel paper to cover the surface of their table. Set out giant cups of colored pencils (NOT markers, NOT crayons. Pencils.) and get the party started by writing each child's name next to their spot. I also drew a simple curvy frame intended for everyone to make a hand turkey drawing at their place.
2. Add "adult" details.
I dug up my sturdiest, heaviest fancy bowl and filled it with a cluster of clementines. The bowl won't tip and even if it does, it's not the kind that will break instantly. Kids are able to learn respect of fancy items but only if you give them the chance! Just maybe pick something with a little less sentimental value.
I added a homemade quilt table runner down the middle of their table to break up the sea of paper. Because I set pencils down on the table (not markers, not crayons!) I have no worries about it getting marked up with something that won't come out in the wash.
3. Keep it natural.
I went with an orange theme with the produce. The kids are welcome to snack on the clementines and they can play and touch the pumpkins all they want. Use natural items like fruits or vegetables and allow the kids to touch and play with them. Have counting/guessing games to see how many are in the bowl!
You could also set out small sturdy mason jars and break up a large grocery store bouquet. Let them arrange their mini masterpieces themselves. We did this idea for the main table last year and it was awesome. The arrangements are low enough everyone can talk over them and they are able to be sprinkled throughout the table and arranged as more food platters arrive.

_____________
Tiffany Dahle is the hostess behind Peanut Blossom where she shares her belief that strong families start with strong and happy mothers. She encourages you to develop everyday possibilities for stretching your creativity while doing what you do to keep that household running!
You can find Tiffany on Facebook, Twitter, Google+ and Pinterest.
_____________
Liked this post?