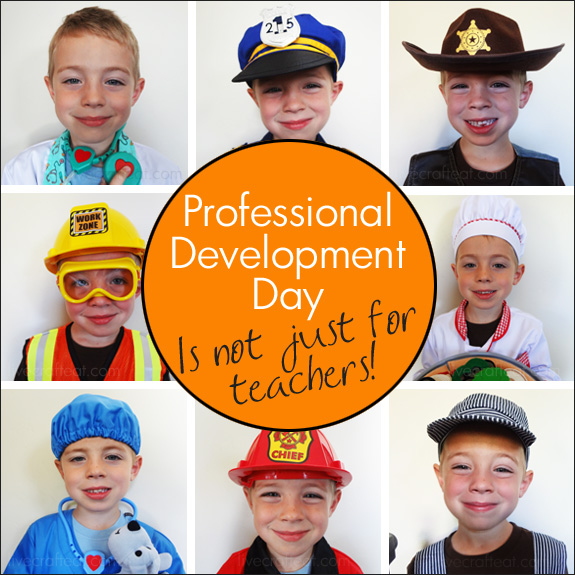 Your kids may soon have a day off from school so their teachers can participate in a Professional Development Day, but do not assume this day need only be for the teachers' professional development! Take the day to learn about different professions with your child. It's a great opportunity for him to see and appreciate the many ways in which people work to earn a living and develop their skills, abilities, and talents. Plus, you never know, he just may find something he wants to be when he grows up and will learn what he needs to do to achieve his goal!
To start your Professional Development (P.D.) Day, print off several pages of this worksheet (click here to download) and store them in a folder or binder. This will be where he keeps everything he's learned about each profession. Since they are blank, he may select any occupation he wishes to observe and record – take it while you are out and about running errands, and he can write about what the cashier does, or what the bank teller's role is, or why the garbage collector's job is so important. Head to the library or internet to look up even more information about the jobs he is interested in. You can help to make it even more interesting by gathering up some toys or costumes to help him role-play as many jobs as possible – he can do nothing better to know if he likes a particular profession or not than by learning on the job!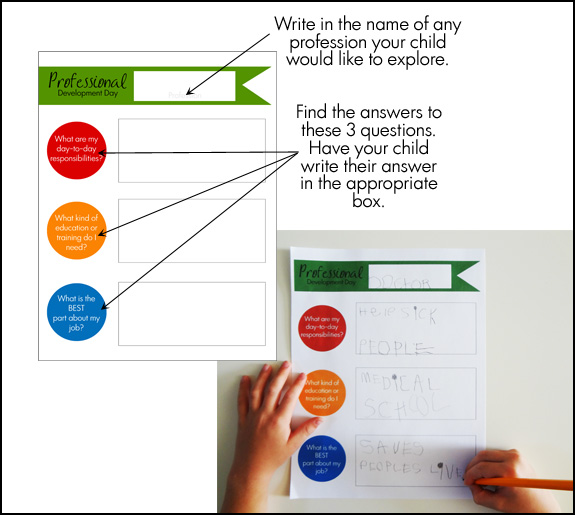 While there are a plethora of professions out there to be explored, we've been focusing on the following (and they seem to be pretty popular answers to the question "What do you want to be when you grow up?"):

Train Engineer: Any mother of boys will most likely come across this at some point in the early years, but I know many girls who also love to play with trains! A train engineer costume and a train set, even if it's made from paper tracks and a wooden-block train, are perfect for setting the stage. Get to know the different parts of a train. In what ways could they break down or wreck? How might they be fixed? Should the train go fast or slow going down hill? Role-play a day in the life of a train and discover the many important things they need to do, both passenger trains, and freight trains.

Cowboy: Be a cowboy or cowgirl for a day! Dress up in a cowboy costume and visit a farm or petting zoo, or simply pull out a favorite farm/animal book or fold & go barn. Anything that will help them learn about animals or crops will work well. What do you know about crop rotation or pivots? Why are they important? What kids of things to the different animals on the farm eat? How often to they need to be fed and what else does and farmer or cowboy need to do to take care of them? Why is it important that we have farms?

Fire Chief: Not only is this a good activity for learning about what a fire chief and other firefighters do, but it's a perfect opportunity to talk about fire safety and how serious the dangers of fire can be. We used this fire rescue set to role-play what happens in a house fire, and then spent some time talking about what our family fire plan would be – what to do (stop, drop, roll), how to get out of the house, etc.

Professional Chef: A few months ago, I posted about a Kid's Restaurant activity in which we dressed up as a chef, learned about different types of food, how they are good for us, and role-played being a chef in a restaurant. To take it a step further, we've since made simple kid-friendly recipes in the kitchen to learn more about what foods taste good together as well as some techniques, such as how to measure, how to use a rolling pin, and how to follow a recipe.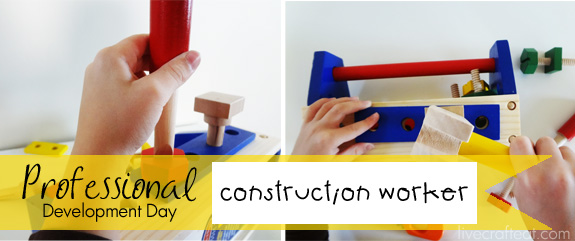 Construction Worker: Did you know that a career in construction requires more than just manual labor? It can require math for carpenters, computer skills for workers using heavy machinery, and chemistry for welders, amongst many other skills required. So gather a hard hat and construction worker costume and get to work learning about all the ins and outs of specific types of construction. Or simply let him enjoy the satisfaction that comes with having built something himself using building blocks, or a wooden tool kit.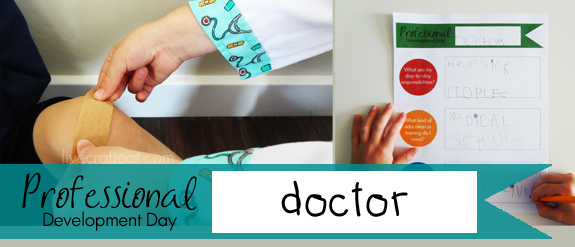 Doctor: What does a doctor do? Well, there are many different kinds of doctors. You could learn about and role-play what doctors do generally, but there are variations on what they do specifically depending on the type of doctor you're researching. Do you want to learn about family doctors, ER doctors, pediatricians, etc? It may be beneficial to first learn about all the different types of doctors before going into what they do and what kind of training and education they require.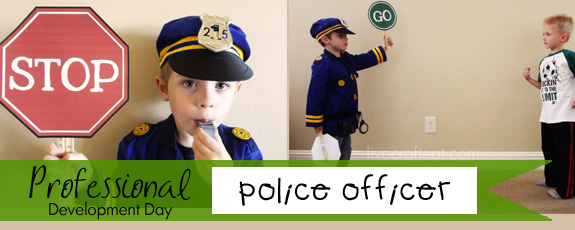 Police Officer: Young children may think that a police officer's only role is to put people in jail. And while that is certainly one of their responsibilities, they are also there to make sure people are safe and to enforce the rules. Have your child make a list of rules that need to be followed in your community – obey the speed limit, wear seat-belts, no stealing, etc. While police officers ensure that people are obeying the rules, or laws, of you city they are also there to keep people safe, help people who are hurt, and help find people who may be lost.

Veterinarian: At first glance, a veterinarian costume may look like the same thing regular doctors wear. But what is the difference between what they do every day? While doctors help people stay healthy, veterinarians help animals to stay healthy. Many children love animals, so build on that interest and learn about as many different animals as possible. If you have a pet in your house, give your child some responsibility when it comes to taking care of it. If you don't have a pet in your house, stuffed animals are a great substitute!

By exposing your child to the many different professions and their roles in society, he will become more aware of what might be available for him in the future, and also what it takes to make a community run smoothly. Every job is important and is worth learning about!
---

Katie Heap is the author of Live Craft Eat–a place where she writes about her 3 loves: raising her family, her crafting endeavors, and learning to cook. You can subscribe to her blog or follow Live Craft Eat on Pinterest and Facebook.
PIN this Post!
Shop the Story
.