The countdown to summer is on . . .
Planning to travel with kids this summer? Our bloggers Zina Harrington, Tiffany Dahle, and Marnie Craycroft are helping you prepare for your upcoming summer trips! We've rounded up these bloggers' recent articles on pre-trip planning in case you missed a post or just want a quick refresher. Here's the latest and greatest from our "On the Go with Melissa & Doug" summer travel series!
To make her road trip to the Black Hills of South Dakota both manageable and memorable, Zina asked each family member to choose, research, and plan ONE desired activity. The family's must-do adventures include kayaking, spelunking, fossil excavation, and horseback-riding. Everyone is excited about and invested in the trip! Read more of Zina's tips for keeping your travel itinerary fun and stress-free so you won't need a vacation FROM vacation.
Marnie prepared her children for a weekend in the "wilderness" by practicing first with INDOOR CAMPING. It's all the fun of building a fort, but the kids get to use a tent! Children run-through getting their camping gear together, pitching a tent, identifying plants and animals, going on Nature and Listening Walks, stargazing, storytelling, and — of course — sleeping overnight in a real tent. Get all of Marnie's details for preparing kids for your summer camping trip here.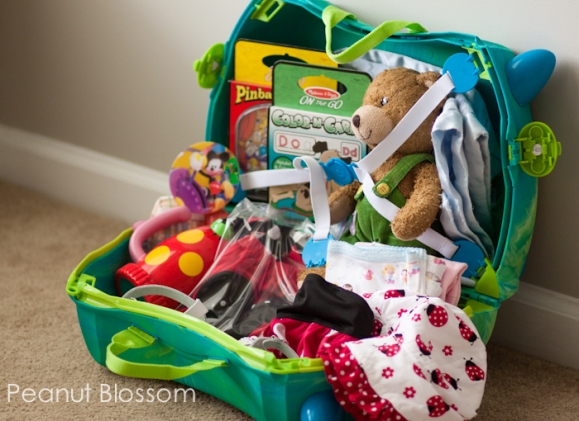 Tiffany and her family will be hotel-hopping across the East Coast on their way to Charleston, South Carolina. If there's one thing this mom knows, it's how to pack WHAT you need — right WHERE you need it. Use Tiffany's handy checklist to learn what to put in your airplane carry-on and in your overnight road-trip bag so you can say, "Yeah. I got that."
Kids may like the idea of traveling, but the trip itself can often be more daunting than they imagined. Read this post for tips and play ideas to help your kids understand and get comfortable with what's really involved when traveling on a PLANE, TRAIN, BUS, or CAR. Have fun on vacation — wherever you are!
Get a wealth of ideas for using books, crafts, puzzles, apps, DVDs, and your local  museum to make any travel adventure educational – AT HOME. Zina shares her pre-trip activities for getting your kids excited about all the cool stuff they're gonna see on your travels this summer.
* * *
Stay tuned as these three travelling mamas leave the "pre-trip prep" station and head off on their summer journeys. Along the way to their destinations, they'll share their creative ideas for keeping kids happy, learning, and entertained while "on the go." It's all in store for you — every Thursday through July — in our Melissa & Doug "On the Go" hub and our Traveling with Kids Pinterest board.
Let us know how you've been getting yourself and your kids prepared for YOUR big summer trip.
Leave us a comment below, or tell us your pre-travel tips and ideas on the Melissa & Doug Facebook page. Thanks for sharing!