This Earth Day post is provided by Guest Blogger Katie Heap of Live Craft Eat
April 22nd is Earth Day! Here, you will find 4 activities that will not only help you celebrate Earth Day with your child, but also discover a few things about the planet and its inhabitants while you're at it.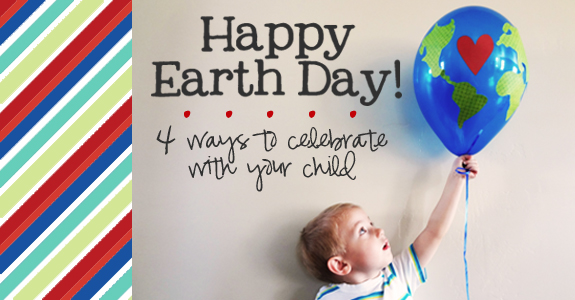 Activity 1: Make Earth balloons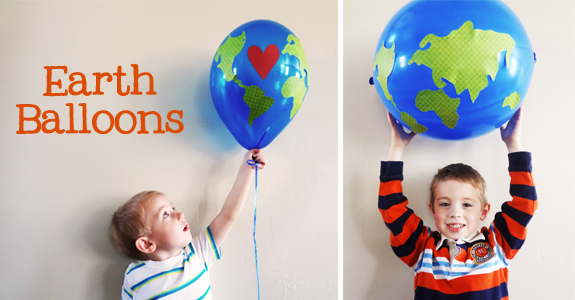 The first thing to do when celebrating an event is to decorate! This activity is a huge hit. Who doesn't love helium-filled and big punch balloons? All you need are the blue balloons, a few simplified shapes of the Earth's continents (just roughly hand-drawn; save your templates for another activity described later in this post), some green paper, scissors, and double-sided tape. If your child is old enough, he can assist with the cutting and taping. Once all the continents are cut, tape them to the balloon and enjoy!
Activity 2: "Do You Know My Habitat?" & "The 7 Continents" – Matching Games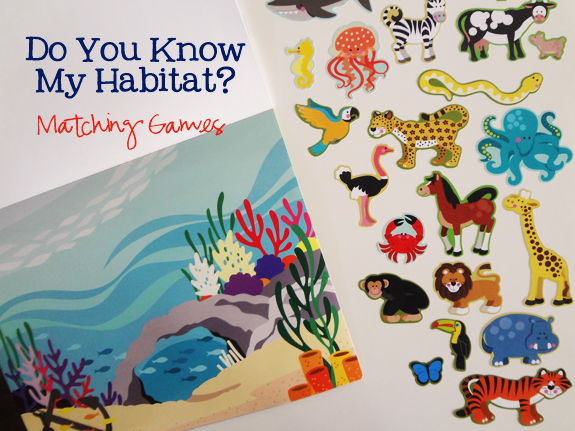 This game corresponds with the Habitats Reusable Sticker Pad and it is great because your child can reposition his stickers over and over again. The first matching game involves removing several stickers from the book and placing them on a table. Next, have your child match each animal with its proper habitat by finding the correct scene in the sticker book. You can ask questions, such as, "How do you know that animal lives in that habitat?" or "Why do you think this animal needs to live in this habitat?"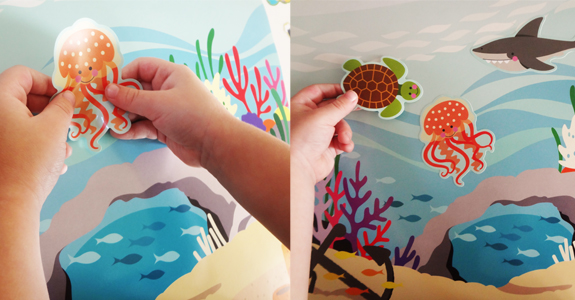 The next activity involves cleaning up! Yes, you can learn by putting things away, too. This time, open to a page in the sticker book where the stickers are stored. Look at the missing stickers' shapes. Can your child guess by the size, shape, and habitat which animal belongs in that spot?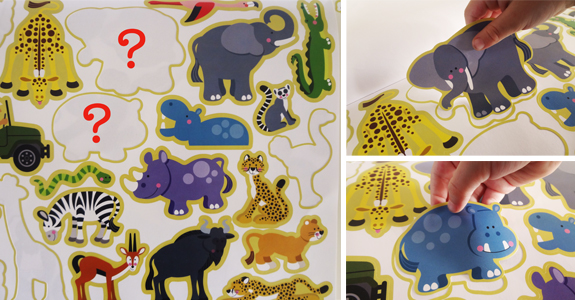 *Here is a habitat-themed printable worksheet that you can laminate or put into a page protector (to be used over and over again). Use dry erase markers and follow the instructions to identify the different animals and their habitats.*
Another matching game, though not of the "habitat" variety, can be played using this World Map Floor Puzzle. We made flags for each of the 7 continents using tape, attached them to toothpicks, and mounted them on erasers. The game was to try and match the flag with the continent on the map. We also talked about the different countries within each continent. "What animals live there?" "Do you think it is hot or cold there?" "Who do we know that lives there?" You can find other ideas for using puzzles to teach geography in a previous post, here.

Activity 3: Recycling Sorting Station
To teach about recycling and how it can help to keep our Earth clean, we made "Earth boxes"–3 cardboard boxes decorated with paint and Scratch Art stickers to look like the Earth. First, have your child paint the boxes blue. Using the same template you used in the Earth balloons activity, trace the continents all over the box and have your child paint them green. As you decorate the scratch art stickers (we used Sea Life and Bugs & Critters) discuss whether or not they belong on land or in the sea. Decorate your Earth boxes accordingly by placing the bugs and sea creatures in the appropriate places. The last thing you need to do to assemble your Earth boxes is to title each one with either "Paper," "Plastic," or "Metal."
Once your Earth boxes are ready, take several items from your recycling box relating to the 3 categories listed above. Have your child place each item in its coordinating box. This sorting activity is great for distinguishing different types of materials. It is also a good opportunity to teach your child about the importance of recycling and how it can help the Earth and the people and animals who live on it.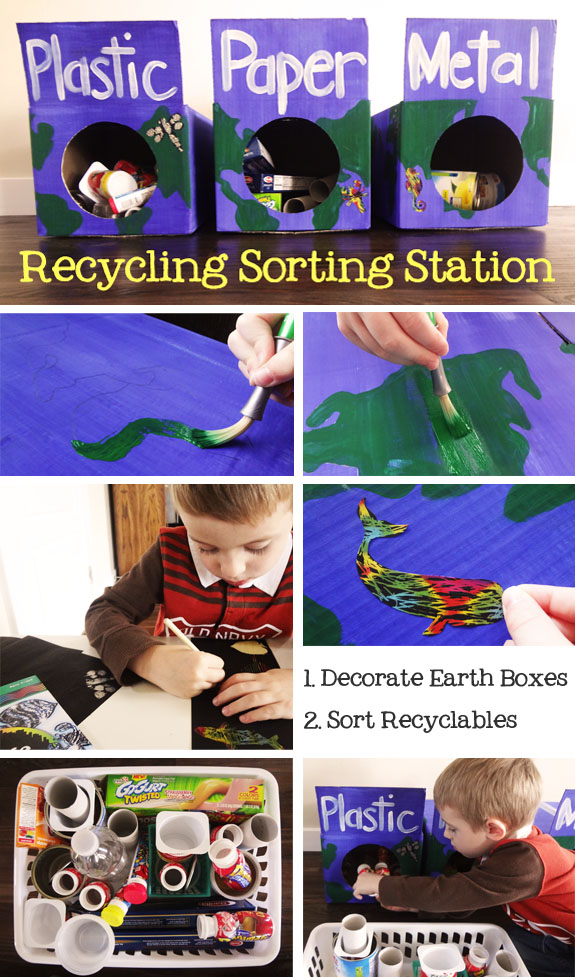 Activity 4: Lights Out!
This activity is one that is typically used for "Earth Hour" in March every year. But it fits in perfectly with Earth Day activities as well. The idea is to learn to conserve our energy and resources by keeping your lights off and using a flashlight or other means of light in its place. This activity is amusing to children because they get to do all their nighttime routines to the light of a flashlight: eating a snack before bed, getting dressed for sleep, brushing their teeth, reading a bedtime book, etc.
What a perfect end to a perfect Earth Day! By the time your child is ready for "(flash)light's out!" they will have learned to take care of and love the Earth just a little bit more!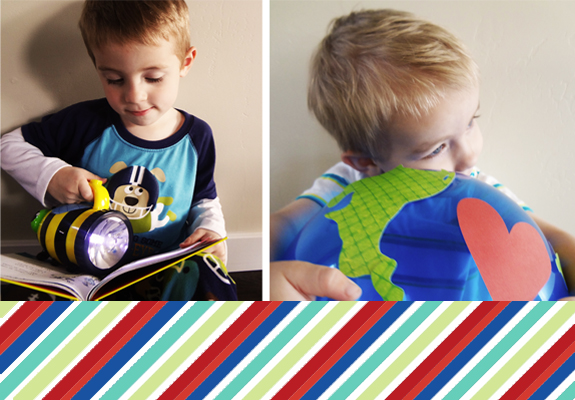 ---

Katie Heap is the author of Live Craft Eat–a place where she writes about her 3 loves: raising her family, her crafting endeavors, and learning to cook. You can subscribe to her blog or follow Live Craft Eat on Pinterest and Facebook.
______
You may also like: Earth Day Link Up with Our Blog Ambassadors