My six year old daughter has an intense love for all things pirate so it was only natural that she'd request a pirate party for her birthday. My challenge was to host a swashbuckling good time for the girls in her class who are perhaps a bit more interested in mermaids than buccaneers. It is definitely possible to please both camps and they all had a wonderful time!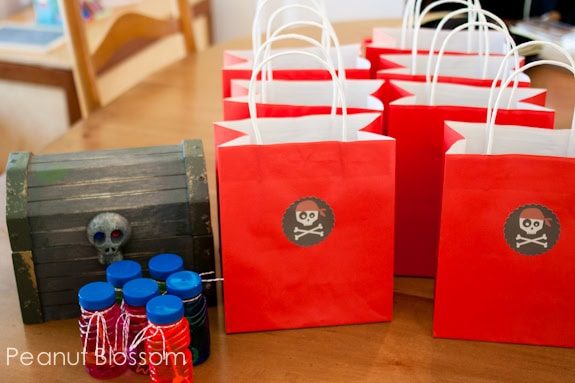 It's all about the booty! I started the party planning by thinking about the goody bags and treats our guests would receive. What's a pirate party without treasure?! I realized the key to attracting the "girlier girls" to this party theme was to put the focus on the glitz of jewels and gold from a pirate's treasure box. Each girl got a Decorate Your Own Treasure Box to take home and paint after the party.
Every treasure box needs a little treasure to fill it, of course. So I filled little baggies with dollar store treats: glittery plastic bracelets, gummy rings, glittery ring tattoos, and butterscotch rounds to serve as the "gold doubloons."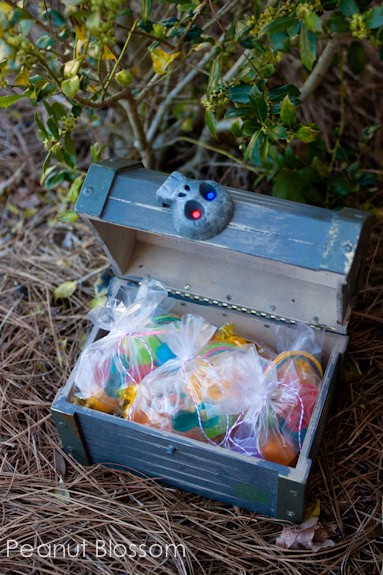 Treasure Hunt Game: I wanted the girls to have to work a little bit for part of their goody bag. We hosted a simple treasure hunt game using these adorable treasure maps. I printed 7 copies of the map and we drew a picture of the clue to each step of the hunt on the back. One map lead the girls to the next until they discovered the hidden Treasure Chest in our yard filled with the baggies of treats.
Parent Tip: For a group of 6 year olds, some read better than others. To accommodate everyone, our clues were pictograms. We drew simple pictures of things in our yard: tree, tomato plant, patio umbrella, mailbox, water table, etc. The pictures were general enough that they still had to hunt a bit for the next map. It worked perfectly.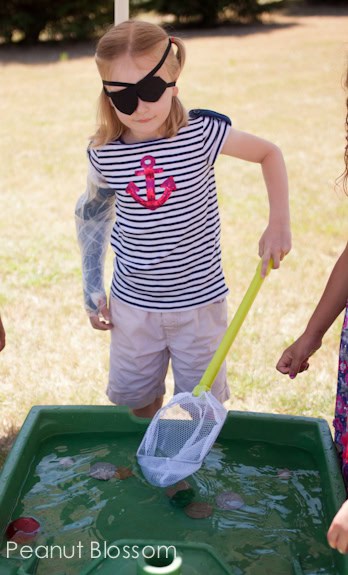 Treasure Scoop: We turned our water table into a treasure filled lagoon. We blindfolded each girl with 2 eye patches and handed them a net. Then the group counted to 5 while the scooper tried to collect as many coins and jewels in the net as she could. We used the perfectly sized treasures from the Maritimes Mates Undersea Treasure Hunt Pool Toy.
Parent Tip: We had a 3 way tie in our game, be prepared for simple prizes for everyone!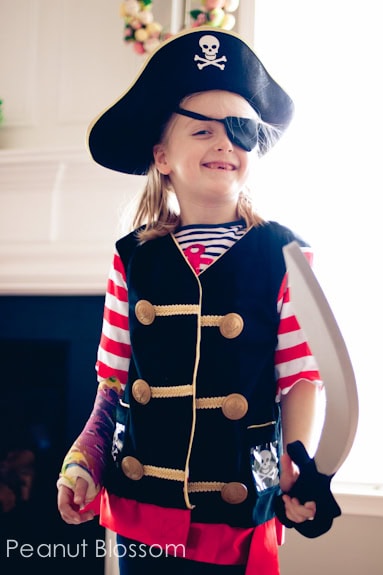 Pirate Dress-up: For our last game, we did a version of a childhood classic from my own birthday parties years ago!
Have the guests sit in a circle on the ground.
Place a simple costume in the middle of the circle that has easy dressing pieces. We used the Pirate Role Play Costume which worked perfectly because it has 4 very simple pieces: the jacket, an eyepatch, a hat, and the sword.
Hand one girl in the circle a single die. Players roll the die until they hit one of two numbers. (We chose 6 & 1.) The first player to hit one of the numbers needs to jump up and start to put the costume on as quickly as she can. The remaining players continue to roll the die.
The next player to hit that number needs to jump up while the first dresser has to take off the costume pieces so player 2 can try to get dressed in the costume.
The first player to get all 4 pieces of the costume on wins the game.
Parent Tip: The game can be made easier or more difficult by using less or more dressing pieces, changing the quantity of acceptable numbers for the die, or adding a silly action to the end of the costume like shouting, "ARR mateys!"
To see the easy and delicious menu for party snacks and treats for our pirate bash, you can find them over at Peanut Blossom. All that treasure hunting sure worked up a few appetites!
______________________________
Check out ALL our Birthday Bash resources here – and don't forget to enter our special giveaway! -This Giveaway is now CLOSED-
_____________
Tiffany Dahle is the hostess behind Peanut Blossom where she shares her belief that strong families start with strong and happy mothers. She encourages you to develop everyday possibilities for stretching your creativity while doing what you do to keep that household running! You can find Tiffany on Facebook,Twitter, and Pinterest.